Dimensions: 41W x 14W x 90H in.Background available in a variety of material optionsPump conveniently includedWall-mounted design for outdoor useNo plumbing needed water recirculates through fountainIncludes energy-efficient halogen lightingMetal frame comes in a wide variety of powder-coated finish optionsHandcrafted in the USAFlush mount is best against a wallCustomized options availableIncludes 1-year limited manufacturer warranty. Zen-inspired serenity for your home or office the Adagio Harmony River 90 in. Flush Mount Floor Fountain blends the soothing power of a water feature into the look of a modern art masterpiece. This fountain has a large metal frame that comes in a variety of powder-coated finish options. Its waterfall gently cascades over the large background panel that comes in several material options. Its flush-mount design makes this fountain perfect in your entryway or against any wall. Handcrafted and stately this fountain comes complete with a recirculating pump energy-efficient halogen lighting and polished river rocks. For questions on installation flow or maintenance contact Adagio's live customer service support at 801-255-9484. Customize this floor fountain further by adding one or all of the optional features. Options include LED lights with remote control customized background logo and stone selection. About the Adagio CollectionBased out of Salt Lake City Utah Adagio designs constructs and produces the highest quality water features available. Adagio blends the beauty of natural slates and rainforest marbles trimmed in premium metals with the gentle flow and sounds of running water; soft halogen lighting brings the tranquility to life. Color: Rustic Copper. Material: Brown Rainforest Marble.
accents
,
fountains
,
outdoor
,
adagio
,
copper
,
decorative
,
fountains
,
garden
,
garden
,
decor
,
fountains
,
home
,
home & garden
,
decor
,
fountains & ponds
,
fountains & waterfalls
,
outdoor
,
outdoor
,
outdoor
,
outdoor
,
outdoor decorative accents
,
fountains
,
outdoor garden fountains
,
pond
$3,349.00
Related Products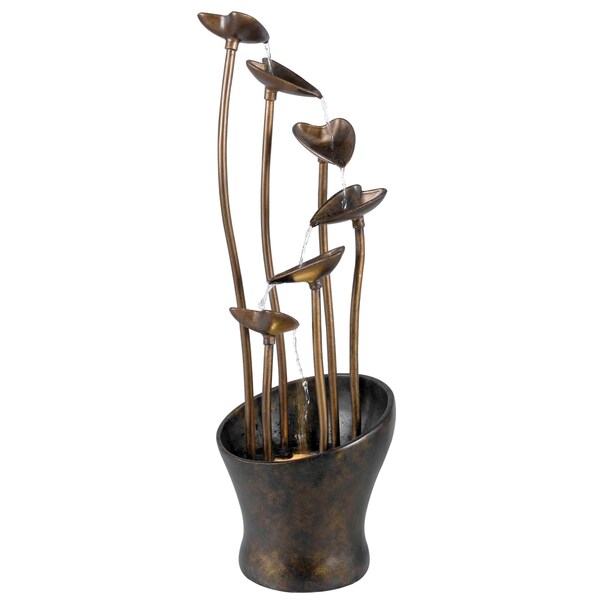 $207.49
Bring traditional elegance to your home with this gorgeous copper-finished floor fountain. This fountain's twisted design features heart-shaped leaves and free-standing stems. With water trails that are lit from beneath, this fountain adds beauty to your space, while the shiny copper finish adds class. Keep this metal floor piece in an indoor or outdoor setting for a stunning visual treat. Type: Floor Materials: Metal Finish: Copper Setting: Outdoor or indoor Water trickles down from leaf to leaf Heart-shaped leaves Water trails lit from beneath Package contents: One (1) fountain Dimensions: 42 inches high x 13 inches in diameter
$300.21
Natural slate with copper construction gives this indoor/outdoor fountain universal appeal. Halogen light illuminates the fountain for added atmosphere. Polished river rocks are included and match the fountain's motif. Size: 49H x 16W x 8L inches.
$289.99
The water drips from one leaf to the next in this striking copper fountain. With long copper steps and ornate leaves this artistic fountain will look beautiful inside your home or outside on a patio. Requires no plumbing. Water re-circulates within the fountain. Plugs into any standard electrical outlet. Size: 11" in diameter x 41" tall and weighs 15.4 lbs.